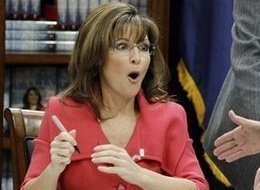 Sarah Palin, Marijuana Law Reformer? Nevada Group Hopes $25,000 Convinces Palin To Back Reform Of Marijuana Laws
Could Sarah Palin become the highest profile conservative to endorse reforms to the nation's marijuana laws?

She clearly has no problem with legalized inebriation. Palin, who is scheduled to give the keynote address Tuesday at the national convention for the Wine & Spirits Wholesalers of America, will be offered to give a similar speech at a Nevada event about marijuana.

Nevadans for Sensible Marijuana Laws (NSML), a ballot initiative group, is poised to offer the former Alaska Governor $25,000 to speak at one of their upcoming events, according to a statement from the Marijuana Policy Project.