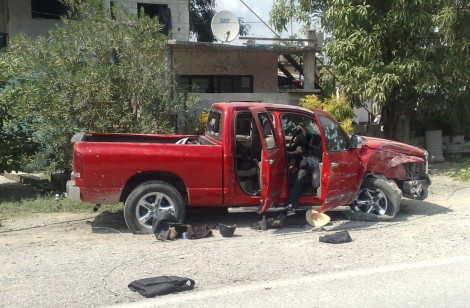 Cartel Shootout in Matamoros
Mexican Military and Drug Cartel in Shootout in Matamoros, Mexico across the border from Brownsville, Texas.

Heavy gun battle in Mexico, Gulf Cartel vs Los Zetas Cartel
Shoot out in Northern Mexico. Mexico's drug war is brutal conflict that has taken the lives of an estimated 30,000 Mexicans since the President, Felipe Calderon, declared "war" on the nation's wealthy and extraordinarily well-armed drug cartels in 2007.
The Mexican Drug War in One Lesson: Know Your Zetas!
Los Zetas started out as an elite Special Forces unit–or GAFE–created and trained in the School of the Americas (in the USA), with counter-insurgency in mind: Specifically, to combat the 1994 Zapatista Army of National Liberation insurrection in Chaipas. A few years later, at the turn of the millennium, GAFE units found themselves with no insurgencies to fight. So they were re-trained for drug-interdiction operations and were sent to Tamaulipas to capture the capos and disrupt narcotrafficing operations in the region. One of those GAFEs was headed by a man named Arturo Guzmán Decena, who would go on to be known as "Z-1"–the leader of the Zetas. Z-1 realized there was a lot more money helping the traffickers than trying to police them, and ended up as the personal escort of Osiel Cardenas. Nicknamed "The Friend-Killer," Cardenas was just starting to take control of the leaderless Gulf Cartel around 1998-1999. Hiring elite soldiers was his way of consolidating power.