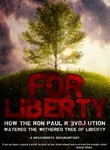 For Liberty: How the Ron Paul Revolution Watered the Withered Tree of Liberty
Political maverick and 2008 presidential candidate Ron Paul was a little-known member of the House of Representatives before his startling policy principles caught fire with the American public and shook up the political establishment. This film chronicles the politico's journey, capturing the electric excitement of Paul's national campaign while chronicling its lasting impact on the U.S. electoral landscape.
Not rated. This movie has not been rated by the MPAA.
This movie has not been released on DVD. Future availability is not guaranteed.